Intellinetics Completes Digital Conversion of Vital Records for Garden City, Michigan
End to End Digital Conversion Services for Municipality

COLUMBUS, OH, Feb. 14, 2023 (GLOBE NEWSWIRE) -- Intellinetics, Inc. (NYSE American: INLX), a digital transformation solutions provider, announces that Garden City, Michigan has successfully digitized its historical vital records with Intellinetics Document Scanning Services.
Garden City chose Intellinetics to scan and index more than 104,000 birth and death records dating back to 1928 when Garden City was a newly incorporated village.
The Document Solution Services Division of Intellinetics, located in Madison Heights, Michigan, provided Garden City with a local source for secure, end-to-end, digital conversion services, enabling them to move away from paper-based processes.
The new process facilitates quicker and easier fulfillment of vital records requests, keeps the records safe from natural disasters, and prevents the original documents from degrading by frequent handling.
"When I became Clerk of Garden City in 2019, one of my goals was to bring the city into the digital age with proven technology and trusted partners," stated Matthew Miller, City Clerk of Garden City. "We are very pleased with the Intellinetics relationship. Our vital records scanning project was a huge task and they performed it very well. They made it an easy process from beginning to end."
The partnership between Garden City and Intellinetics continues to evolve and grow. After the initial Vital Records project, Intellinetics supported the digitalization initiatives of the Building Department by scanning their large format drawings and permits.
"We are pleased to assist Garden City with its goal of better serving its residents by increasing access to public records while providing additional layers of disaster recovery," stated James F. DeSocio, President & CEO of Intellinetics. "We believe by leveraging our people, technology, and partnerships to solve municipal governments' biggest challenges, we will continue to expand our market share."
About Intellinetics, Inc.
Intellinetics, Inc. (NYSE American: INLX) is enabling the digital transformation. Intellinetics empowers organizations to manage, store and protect their important documents and data. The Company's flagship solution, the IntelliCloud™ content management platform, delivers advanced security, compliance, workflow and collaboration features critical for highly regulated, risk-intensive markets. IntelliCloud connects documents to users and the processes they support anytime, anywhere to accelerate innovation and empower organizations to think and work in new ways. In addition, Intellinetics offers business process outsourcing (BPO), document and micrographics scanning services, and records storage. From highly regulated industries like Healthcare/Human Service Providers, K-12, Public Safety, and State and Local Governments, to businesses looking to move away from paper-based processes, Intellinetics is the all-in-one, compliant, document management solution. Intellinetics is headquartered in Columbus, Ohio. For additional information, please visit www.intellinetics.com.
About Garden City, Michigan
The City of Garden City, Michigan, is a community of almost 28,000 residents located in western Wayne County in the Detroit metropolitan area. The city was incorporated in 1933 and patterned after the "garden city" concept that became popular in England during the 19th century, with most home sites sectioned off into 1-acre plots to allow adequate farming area to support the family with fruit and vegetables. Visit www.gardencitymi.org.
Cautionary Statement
Statements in this press release which are not purely historical, including statements regarding future growth, increased visibility of our company, expanded market share and other intentions, beliefs, and expectations are forward-looking statements. The forward-looking statements involve risks and uncertainties including, but not limited to, the risks associated with the effect of changing economic conditions including inflationary pressures, the impact of COVID-19 and related governmental actions and orders on customers, suppliers, employees and the economy and our industry, Intellinetics' ability to execute on its business plan and strategy, customary risks attendant to acquisitions, trends in the products markets, variations in Intellinetics' cash flow or adequacy of capital resources, market acceptance risks, the success of Intellinetics' solutions providers, including human services, health care, and education, technical development risks, and other risks, uncertainties and other factors discussed from time to time in its reports filed with or furnished to the Securities and Exchange Commission, including in Intellinetics' most recent annual report on Form 10-K as well as subsequently filed reports on Form 10-Q and Form 8-K. Intellinetics cautions investors not to place undue reliance on the forward-looking statements contained in this press release. Intellinetics disclaims any obligation and does not undertake to update or revise any forward-looking statements in this press release. Expanded and historical information is made available to the public by Intellinetics on its website at www.intellinetics.com or at www.sec.gov.
Investor Contact:
FNK IR
Tom Baumann / Rob Fink
646.349.6641 / 646.809.4048
INLX@fnkir.com
Joe Spain, CFO
Intellinetics, Inc.
614.921.8170
investors@intellinetics.com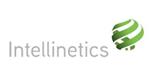 Source: Intellinetics, Inc.

Released February 14, 2023