Intellinetics Receives $174,538 Order Reflecting Growing Demand for Its IntelliCloud Suite of Integrated Solutions and Services
Expanding Solution and Services Making an Impact
COLUMBUS, Ohio, April 29, 2019 (GLOBE NEWSWIRE) -- Intellinetics, Inc., (OTCQB: INLX) a provider of cloud-based content services solutions, announced today the receipt of an order from a new service line. Its IntelliCloud™ suite of solutions serve mission-critical roles for organizations including content management, incident case management and more for in highly regulated, risk and compliance-intensive markets such as Healthcare, Human Services, K12, Public Safety, State and Local, and Financial Services.
The order was received by Intellinetics' new Document Scanning ServicesTM (DSS) line of business that is focused on accelerating the paper-to-digital transition for existing and net-new customers. In this case, the Franklin County Board of Developmental Disability turned to Intellinetics for help in merging its legacy documents into their IntelliCloud content services platform to increase efficiencies and reduce risks.
"Our suite of inter-operable IntelliCloud solutions and services all complement each other creating more ways to attract new customers with built-in cross-selling opportunities for ready-expansion as we saw in this case. In addition, our new Incident Case Management SystemTM has out-of-the-box connectors for our other software solutions," said James F. DeSocio, President & CEO of Intellinetics. "This approach is a part of our overall strategy to expand the value we can deliver to the market, increase the ways we gain new customers, all supported by a common core set of assets and strengths to scale."
About Intellinetics, Inc.
Intellinetics, Inc., located in Columbus, Ohio, is a cloud-based content services software provider. Its IntelliCloudTM suite of solutions serve a mission-critical role for organizations in highly regulated, risk and compliance-intensive markets in Healthcare, K12, Public Safety, Public Sector, Risk Management, Financial Services and beyond. IntelliCloud solutions make content secure, compliant, and process-ready to drive innovation, efficiencies and growth. For additional information, please visit www.intellinetics.com.
Cautionary Statement Regarding Intellinetics, Inc.
Statements in this press release which are not purely historical, including statements regarding future business associated with any customer, industry or solution; Intellinetics' future sales and growth; market penetration; and other intentions, beliefs, expectations, representations, projections, plans or strategies regarding future growth, financial results, and other future events are forward-looking statements. The forward-looking statements involve risks and uncertainties including, but not limited to, the risks associated with the effect of changing economic conditions, trends in the products markets, variations in the company's cash flow or adequacy of capital resources, the amount of market acceptance and penetration of the products and applications discussed in this release, the success of our channel partners and distribution partners, technical development risks, and other risks and uncertainties discussed in the Intellinetics annual report on Form 10-K filed on April 1, 2019, and any previously filed Form 10-Qs and Form 8-Ks. The company cautions investors not to place undue reliance on the forward-looking statements contained in this press release. Intellinetics disclaims any obligation and does not undertake to update or revise any forward-looking statements in this press release. Expanded and historical information is made available to the public by Intellinetics on its website or at www.intellinetics.com or at www.sec.gov.
CONTACT:
Joe Spain, CFO
Intellinetics, Inc.
614.921.8170
investors@intellinetics.com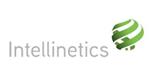 Source: Intellinetics, Inc.

Released April 29, 2019