Intellinetics, Inc. Becomes Certified Provider For Ohio Provider Resource Association
Certification Provides Members with Accessto Best-Practice Document Management Solution
COLUMBUS, Ohio, March 29, 2019 (GLOBE NEWSWIRE) --  Intellinetics, Inc., (OTCQB: INLX) a cloud-based document content services provider, announced today a new partnership with Ohio Provider Resource Association (OPRA). This partnership further strengthens Intellinetics commitment to provide cloud-based document management solutions to the Human Services industry.
Intellinetics has been approved as an OPRA Vendor Partner. This program, known as OPRA's Vendor Partner Program (VPP), provides OPRA members proven, best-practice solutions for strategic needs. VPP status is reserved for proven market leaders who go through a rigorous vetting process prior to presenting to OPRA's board for final approval. VPP gives OPRA members exclusive access to special pricing and services while saving time, money and resources by connecting members to proven solutions and services.
Intellinetics has been helping Ohio-based Providers and County Boards for over 10 years and now supports a network that serves over 60,000 individuals. The Intellinetics' IntelliCloudTM platform has a library of out-of-the-box solutions that includes modules to support:
Individual Documents
Employee Documents
Incident / Major Unusual Incident Management
Billing / Finance
Governance / Administrative
Transportation
Providers generate and receive documents from many sources which creates challenges that interfere with service levels as well as increases costs and creates security and compliance risks. With IntelliCloud, Providers enjoy an easy-to-deploy solution that integrates with existing platforms to:
Improve service delivery
Decrease costs
Improved compliance
Increase revenue protection
Enhance security
Document audit-readiness
All of which gives the providers more time to serve those that depend on them.
"We are filling an underserved need within the Human Services industry," said James F. DeSocio, President & CEO of Intellinetics. "Our company was founded on filling the document management needs of this industry and we understand better than anyone the challenges they face. Our platform is designed to meet those needs and can be quickly launched and easily learned. We are pleased that our solution is helping those that have traditionally been overlooked when it comes to technology solutions."
"We are pleased to have approved Intellinetics as an OPRA vendor partner," said Anita Allen, Vice President. "We know that our members need and will benefit from the solutions Intellinetics offers. Even in the early stages of this partnership, we are seeing an overwhelming interest from our members. They clearly see the value of being able to easily manage their documentation paperwork so they have more time to focus on providing service for those in their care."
About Intellinetics, Inc.
Intellinetics, Inc., located in Columbus, Ohio, is a cloud-based document content services provider. Its flagship IntelliCloud™ platform provides easy to use, affordable, secure document management to organizations that have critical document requirements and must always be audit-ready, including health and human services, education and law enforcement. Our customers save valuable time by immediately locating any form, file, record or document, and our commitment to superior customer service ensures users can remain focused on their mission. For additional information, please visit www.intellinetics.com.
About OPRA
As a statewide association of service providers, OPRA is a leader in efforts to collaboratively build a statewide service system that meets the needs of its ultimate customers: Ohioans with developmental disabilities. Currently, OPRA's Membership consists of 175 provider organizations, both for-profit and not-for-profit, providing services to more than 40,000 Ohioans with developmental disabilities.
Cautionary Statement Regarding Intellinetics, Inc.
Statements in this press release which are not purely historical, including statements regarding future business associated with any customer or solution; Intellinetics' future sales and growth; market penetration; and other intentions, beliefs, expectations, representations, projections, plans or strategies regarding future growth, financial results, and other future events are forward-looking statements. The forward-looking statements involve risks and uncertainties including, but not limited to, the risks associated with the effect of changing economic conditions, trends in the products markets, variations in the company's cash flow or adequacy of capital resources, market acceptance risks, the success of our channel partners and distribution partners, technical development risks, and other risks and uncertainties discussed in the Intellinetics annual report on Form 10-K filed on April 2, 2018, and any previously filed Form 10-Qs and Form 8-Ks. The company cautions investors not to place undue reliance on the forward-looking statements contained in this press release. Intellinetics disclaims any obligation and does not undertake to update or revise any forward-looking statements in this press release. Expanded and historical information is made available to the public by Intellinetics on its website or at www.intellinetics.com or at www.sec.gov.
CONTACT:
Joe Spain, CFO
Intellinetics, Inc.
614.921.8170
investors@intellinetics.com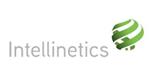 Source: Intellinetics, Inc.

Released March 29, 2019